Learning
Schools

With many years of experience in teaching and learning in Scottish schools, we bring history to life in the classroom, museum or heritage site delivering key elements of the Curriculum for Excellence.
Our active learning approach enables cross curricular learning and supports pupils to achieve a sense of wellbeing and achievement from their participation in the learning process.
The costumed character workshops we provide help young people to develop skills across the Curriculum whether it be learning a 16th century dance with Mary, Queen of Scots, discovering what it was like to be a Victorian school child or investigating the day of a steward and 1st class passenger on board "The Titanic" All our workshops are designed to assist the classroom teacher achieve the best possible learning experiences for the pupils. We offer a variety of characters beyond those mentioned and are happy to provide follow up material.
We have developed a series of workshops for the commemoration of World War I.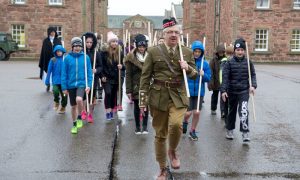 These are based on the topic of recruitment in the opening months of the War and effect it had on the communities they left behind. We have delivered our workshops many locations across Scotland including Annan Museum, Edinburgh Castle, Fort George, Rozelle House and Dumfries Museum.
"Mary, Queen of Scots has really brought the past alive for the children and all the different activities feed into the Curriculum for Excellence so well"
Teacher comment
Open Gallery and Family Days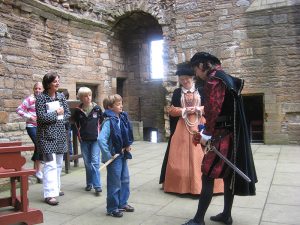 Join in the fun of learning without even knowing you are.
For museums, galleries and heritage sites where the emphasis is on widening access to collections and informing and educating visitors, costumed interpretation is a medium which enhances the visitor experience for all ages and promotes informal learning.
Through the medium of interpretive conversation and object handling we break down the barriers of formality and connect people with the past. Our emphasis is on encountering people and absorbing them into their surroundings so they can peek into a vanished world and enjoy the experience.
''Artemis provided historical interpretation to enhance the Mary Queen of Scots Exhibition programme at the National Museum of Scotland. The opportunity to interact first hand with authentically costumed characters enriched the learning potential of our activities and events enabling audiences of all ages to experience and gain a deeper understanding of 16th Century Scotland''
 Learning & Programmes Manager, National Museums Scotland