Events
Energise, Engage and Entertain your Visitors at Events
Whatever your location, Artemis is your answer for perfect events.
Storytelling in all its forms is our way of doing things.
We can arrange for you to meet John Robertson a scholar and courtier of James IV, Mary Queen of Scots or even our very own 18th century "Hyacinth Buckét", Mrs Doig, who will guide you through the minefield of "enlightened" manners. Should you have arrived in the New Town of Edinburgh, Mr and Mrs Grant are on hand to help you settle into your new abode and will help you come to terms with the polite way to drink tea in society. We can even arrange for you to meet Jean Armour Burns, the wife of Scotland's bard Robert Burns and hear the story of life with Robert from a family perspective.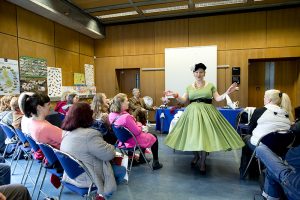 Perhaps your venue requires more modern characters?  Muriel and Jasper will come to your rescue. The "Simply Marvellous World of Muriel and Jasper" will delight all those interested in the Fabulous 1950s.
Great heritage interpretation comes from dedicated research and attention to detail. Our team of costumed interpreters will give your event that certain "je ne sais quoi".
We are happy to develop characters especially for you.
"Artemis Scotland have provided costumed interpreters for EWH events for many years. They take time to properly understand the brief, carry out detailed research and carefully plan interaction with the public, so that their presentations are authoritative and hugely enjoyable. They properly understand the advantages of costumed interpretation in presenting history as an engaging and participative experience, along with the other vital ingredient of having fun."
David Hicks, Communications Manager, Edinburgh World Heritage
Our clients include The National Museums of Scotland, Edinburgh World Heritage, Historic Scotland, the Scottish National Portrait Gallery, The National Trust for Scotland, The Burns House Museum Dumfries, Perth Museum, The Peoples' Palace Glasgow and other local authorities across Scotland.