Renaissance Fashion in St Andrews: 7 & 8 July
Welcome to St Andrews Castle, the place to be on the 7 & 8 July for all the hip and happening people of Renaissance Scotland who want to be in the know about fashion!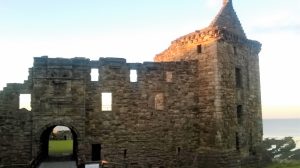 This weekend we will be at the Castle to give you an insight on what to wear as a lady, perhaps even a queen, in mid 16th century Scotland. If you want to make a statement about who you are come and discover how to do it the Renaissance way!
12-4, included in the admission price and suitable for all the family.