Walks
Walk the Royal Mile with Mrs Grant
Discover to the food heritage of Old Town Edinburgh with Mrs Grant as she sets off to do her shopping. Find out how people shopped in Georgian Edinburgh and how The Mound came to be. The walk begins outside the National Library of Scotland and it makes its way down to Bakehouse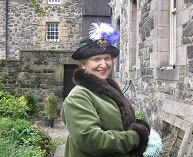 Close opposite the Canongate Church.
This walk was launched in 2015 thanks to Edinburgh World Heritage and is suitable for school groups studying sustainability, Old Town Edinburgh, the emerging New Town in relation to Old Edinburgh and the Enlightenment.
It is also run as a walk for groups wishing to book and is suitable for all the family. If you are interested in booking please get in touch with us through our contact page or telephone 01848 200222.
In the Footsteps of Mrs Burns, Dumfries
Come on a walk around Dumfries with Jean Armour, wife of Robert Burns and see the town through her eyes and hear her story.
"Bonnie Jean" arrived in Dumfries with her husband Robert in 1791. After his death in 1796, she chose to stay on in what had been the family home until her death in 1834. The walk will take approximately 1 hour and is suitable for all the family. We also provide this tour to Corporate Events, Conference Groups and large tour parties.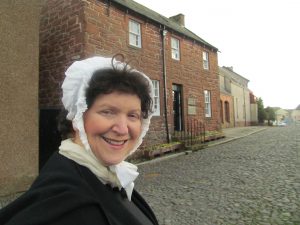 This walk was launched on 25th January 2014, Burns Birthday.
For booking details for groups please email us at info@artemisscotland.com or phone us on 01848 200222
Also suitable for school groups: please contact us here for details and prices.
Georgian Edinburgh
Stroll along George Street in the company of Mrs Grant and discover stories about the construction of the first New Town and James Craig's plan for the city. Mrs Grant will give you some "insider" information on what life is like, being one of the first residents of the magnificent Charlotte Square designed by Robert Adam and the centre piece of the New Town.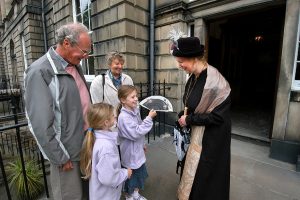 This walk was launched in October 2013 at the Association for Heritage Interpretation Conference.
The heritage walk is designed for groups of all ages and can be booked through Artemis Scotland – please email us at info@artemisscotland.com or phone 01848 200222 for further details.