Travelling Exhibitions
Nothing is so evocative of a life than objects that are associated with an individual. The following exhibitions are available for hire.
Margaret's Wardrobe

In the 1980's Margaret acquired a store card and a secret wardrobe of high end, high street fashions which she hardly wore. Behind her wardrobe lay a life-long interest in clothes particularly uniforms. Margaret had been both a nurse and a stewardess, two of the 20th century's most glamorous professions for women.
What do clothes tell us about identity particularly as memories fade?
Margaret's Wardrobe consists of clothes by Baccarat,Frank Usher, Bernat Klein and other leading designers of the 1980s with the accompanying accessories.
The Suitcase in the Attic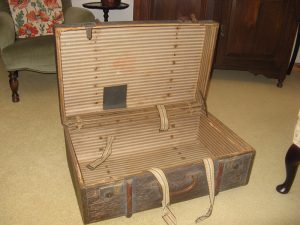 Throughout his life Mr Sperling said very little about his life until he needed to go into a care home and a suitcase was found in his attic, a suitcase which witnessed the journey of a young refugee who escaped twice from Hitler. Along with the suitcase and a range of memorabilia is an album of family photographs, an album belonging to a stocking maker and his wife and two children. The family lived in Germany and were prosperous, cultured and Jewish.  As well as indicating the life behind the patient, this exhibition is particularly appropriate for Holocaust education.
The Cuckoo in the Nest
Adoption in the 1950's was a secretive affair after all you never knew where the baby had come from. Gladys wanted a child, but in middle class Scotland not being able to have children of one's own was a shameful business. Gladys went to extraordinary lengths to hide the fact that her new daughter was not her own.
The objects here reveal this hidden story.
Ten objects. Ten Lives
Museums and indeed family homes are full of objects that often seem of little interest. If we take the time to "interrogate" them and give them a voice they sometimes become rather powerful in their own right as they reveal the stories of those behind them.
What we provide
These small to medium sized travelling exhibitions can be adapted to fit particular needs. Each exhibition comes with the appropriate objects, labels and where necessary other forms of interpretation such as information panels.  There are also suggestions of how to use the material. Display cases are not provided.
Learning materials, workshops and talks etc are also available. Get in touch with us for further information and costs.